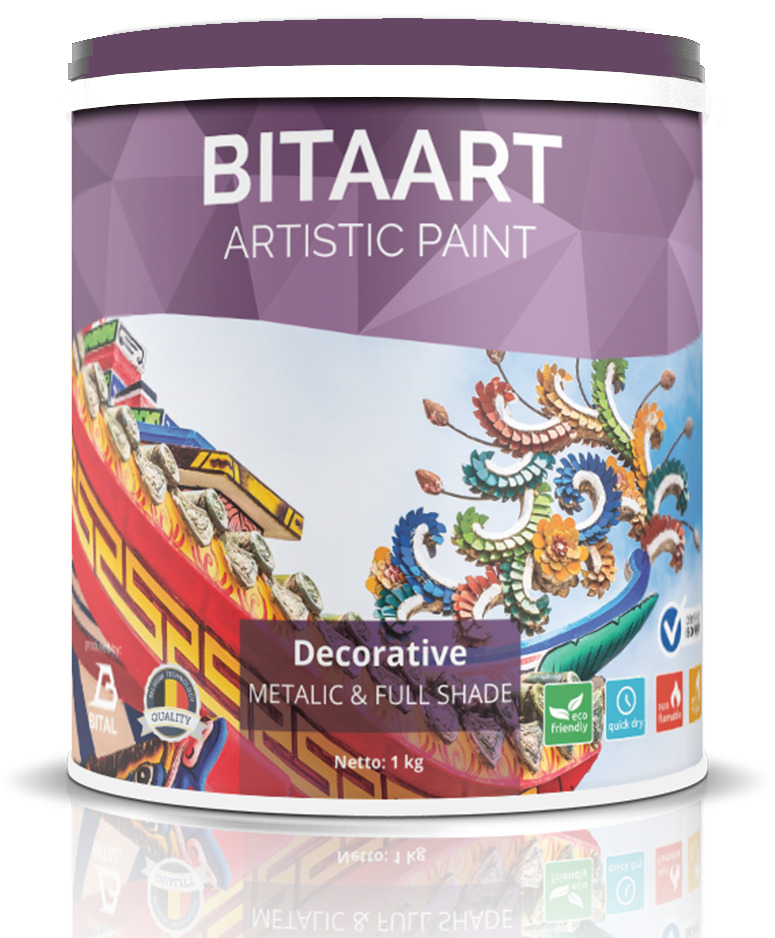 About Bitaart Artistic Paint
DESCRIPTION :
BITAART is an acrylic cross-linked polymer paint, water based, made from the best imported high quality ingredients.
UTILITY :
BITAART is a decorative paint for use on wood, metal, stone, concrete, stucco, glass, plastic, canvas, gypsum, earthenware, leather and so on.
SUPERIORITY :
BITAART is weather-resistant, UV-resistant and has wide-spreadability, dries quickly with a glossy finish, non-toxic, free of heavy metals, no added mercury, anti-fungal and environmentally friendly.
HOW TO USE :
Stir BITAART thoroughly (homogeneous) before and during use. Clean the area to be painted from rust, grease, oil and other impurities. To get maximum results, attach 2 to 3 layers of BITAART, wait for it to dry for installation between layers, drying time between layers + 1 hour. For installation using a spray gun (sprayed) add 10% clean water. Clean your work tools with clean water.
PACKAGING: 300 gr, 1 Kg and 20 Kg
CONSUMPTION : Theoretically : 1 Kg : 15 M2 (depending on area)
STORAGE WAY: Store in a cool and dry place, away from sources of heat, and keep out of reach of children.