Bitachrom Anti Rust Primer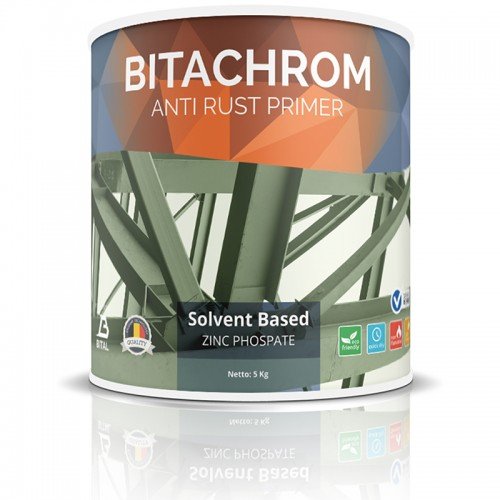 About Bitachrom Anti Rust Primer
INFORMATION :
BITACHROM (Zink-Chromate) base paint/primer is a solvent-based solvent specially formulated with selected high-quality raw materials.
UTILITY :
BITACHROM is specially made for metal and wood priming, both indoors and outdoors, it is perfect for priming either for finishing with BITALAC or MASTERLAC.
SUPERIORITY :
BITACHROM has very strong adhesion and can prevent rust and does not contain mercury and lead.
HOW TO USE :
Clean the iron with sandpaper so that it is free from rust and other impurities.
Stir BITACHROM before and during use.
Dilution with thinner should be under 5% if using a brush and below 15% if using a spray.
Apply the first coat of BITACHROM and let it dry for 4 hours (depending on temperature).
Sand it first with fine sandpaper before applying a second coat over the dry first coat.
Wait 4 hours for painting the final layer using BITALAC or MASTERLAC.
Clean work tools with thinner.
PACKAGING: 1 Liter, 2.5 Liter and 20 Liter.
CONSUMPTION : In theory 1 Liter : 6 – 8 M2
HOW TO STORAGE:
Store in a cool and dry place, away from heat sources and keep out of reach of children.