Bitaguard Waterproofing PU-505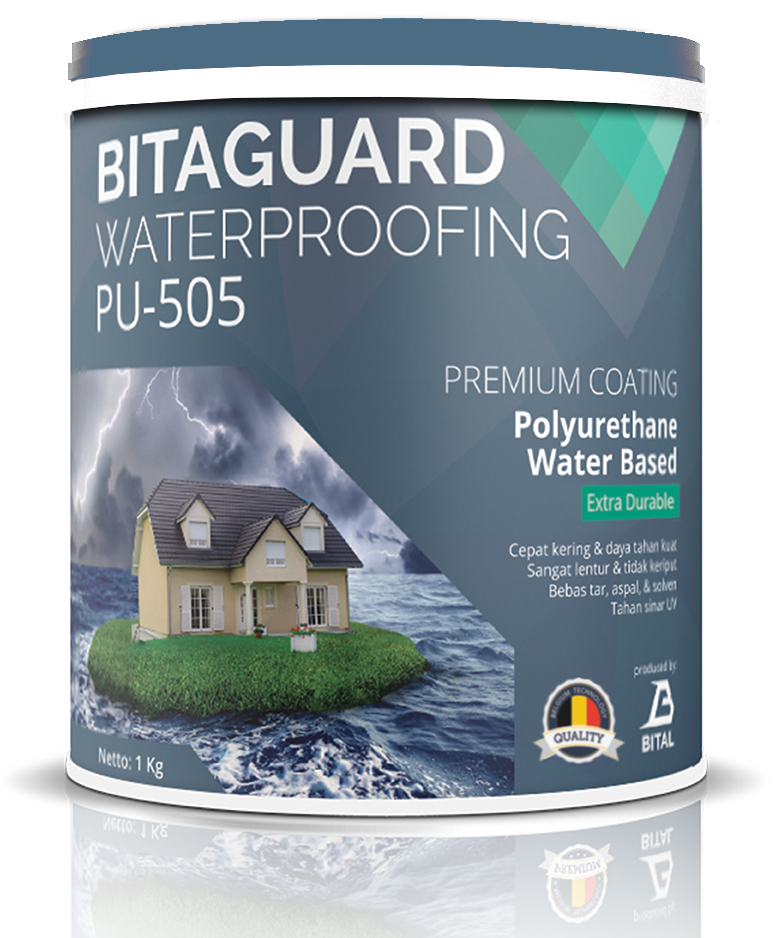 About Bitaguard Waterproofing PU-505
INFORMATION :
BITAGUARD PU-505 new generation, one component acrylic polyurethane coating, water based, water based and best quality, dries quickly and has excellent resistance.
UTILITY :
It can be used in various areas such as exterior walls, parapet walls, flange, floors, basement walls, concrete roofs, balconies, water tanks and gutters.
SUPERIORITY :
One component, no need to mix, no need to primer so easy to apply, quick drying, very flexible, strong durability, no creasing, ultraviolet resistance, free of tar, bitumen, solvents and other harmful substances, can be installed in difficult areas without worrying connection ( overlap).
INSTALLATION PREPARATION:
Prepare work equipment such as brushes, rollers, and other equipment that is still new. All surface areas must be dry, firm, free of dirt, oil, and chipped old paint.
Bet :
New concrete must be at least 21 days old and old concrete must be cleaned with stain remover detergent then rinsed with clean water and allowed to dry for at least 24 hours.
Plastering : For new plastering, the age of coating is at least 7 (seven) days.
Iron: For iron, the surface must be free of rust, first coat the iron with anti-rust paint.
On old waterproof coatings: the area to be re-coated must be clean and dry.
Crack Area :
If there are hairline cracks below 1 mm but no building, then these cracks can be filled with BITAGUARD PU-505 and for cracks above 1 mm use BITAFORCE. Mixing : Stir before use
HOW TO USE :
Once the surface is prepared, apply the first layer of BITAGUARD PU-505 over the entire area and allow it to dry for 2-4 hours (depending on temperature). Place the second layer on top of the dry first layer. For best results, at least 2-3 coats are needed. Application can be done by spraying, rolling or brushing. Note : Use BITAFORCE where the wall and floor meet. Immediately clean work equipment using clean water.
PACKAGING: 1 Kg, 4 Kg and 20 Kg
CONSUMPTION : In theory 1 : 2 Kg/m2
HOW TO STORAGE:
Store in a cool and dry place, away from heat sources and keep out of reach of children.